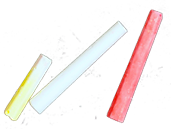 Chalk Board Artist
Based in Christchurch, New Zealand
Hi I'm Liz, and I've been producing unique and stylised chalkboards for a wide range of clients throughout New Zealand for the past 26 years, in my role as the chief Chalk Artist at Lizard Designs.
Click here to read more About Me.

I bring a natural creativity and enthusiasm to my work and love working in the versatile medium of chalk. With an extensive background in design, I am able to produce a multitude of styles. My specialities include caricatures, menus, illustrations, creative fonts, feature walls and effective reproduction of company logos and products.

My chalkboards come in a variety of sizes and frame options, all customisable to suit your requirements, from grungy and recycled to stylish and professional.

Chalk art can also be applied to any paintable surface so the option to create an amazing piece of signage or artwork doesn't always need to be confined within a frame. I have created very small signs, such as badges for beer top bowsers, up to large feature walls for local cafes.

Chalkboards are a unique and colourful way of providing eye-catching signage in a format that is reusable and recyclable. So let's get chalking!
Comments
'Liz has completed a significant amount of work for Lion Nathan
and we have found the quality of her work to be of a high standard and one that people give positive
feedback on.'
Scott McKenzie, Sales Executive, Lion Nathan
'Lizard Designs has been creating menu boards and art work for our company for just over seven years. Liz has managed on all occasions to capture an idea, sometimes with limited instruction, and create the perfect addition to cafes and hotels where we supply.'
Kathryn O'Neill, Sara Lee Foodservice (NZ) Limited
'Liz has produced top quality artwork for Hancocks Wines and Spirits for a number of years. Her work is always impeccable, on time, and resulted in significant sales growth and brand awareness for the brands involved'.'
Michael Bayly, South Island Regional Manager, Hancocks Wines & Spirits
Blog News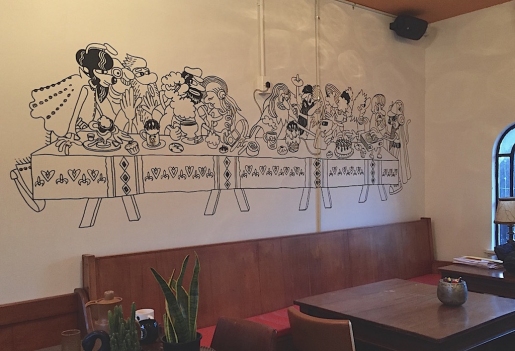 Jul 2017 May 2017 Rollickin Gelato Feature Wall
Here's my version of "The Last Supper" Rollickin Gelato style. Inspired by the retro fit out and use of a church pew for seating I have brought The Old Master into the 21st century. They all look to be enjoying the yummy gelato, desserts, drinks and a cool vibe that makes Rollickin Gelato the go to place in New Regent St. Hand painted with Posca Pens. continue >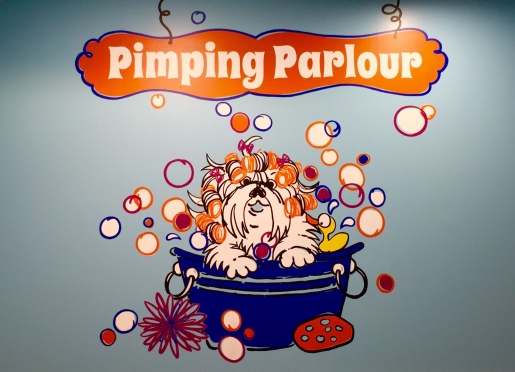 Jul 2016 Pet Central Pimping Parlour Wall Feature
99% of the artwork I produce is done by hand and this is one of my latest handpainted graphic for Pet Central's fabulous new Pimping Parlour for dogs. continue >